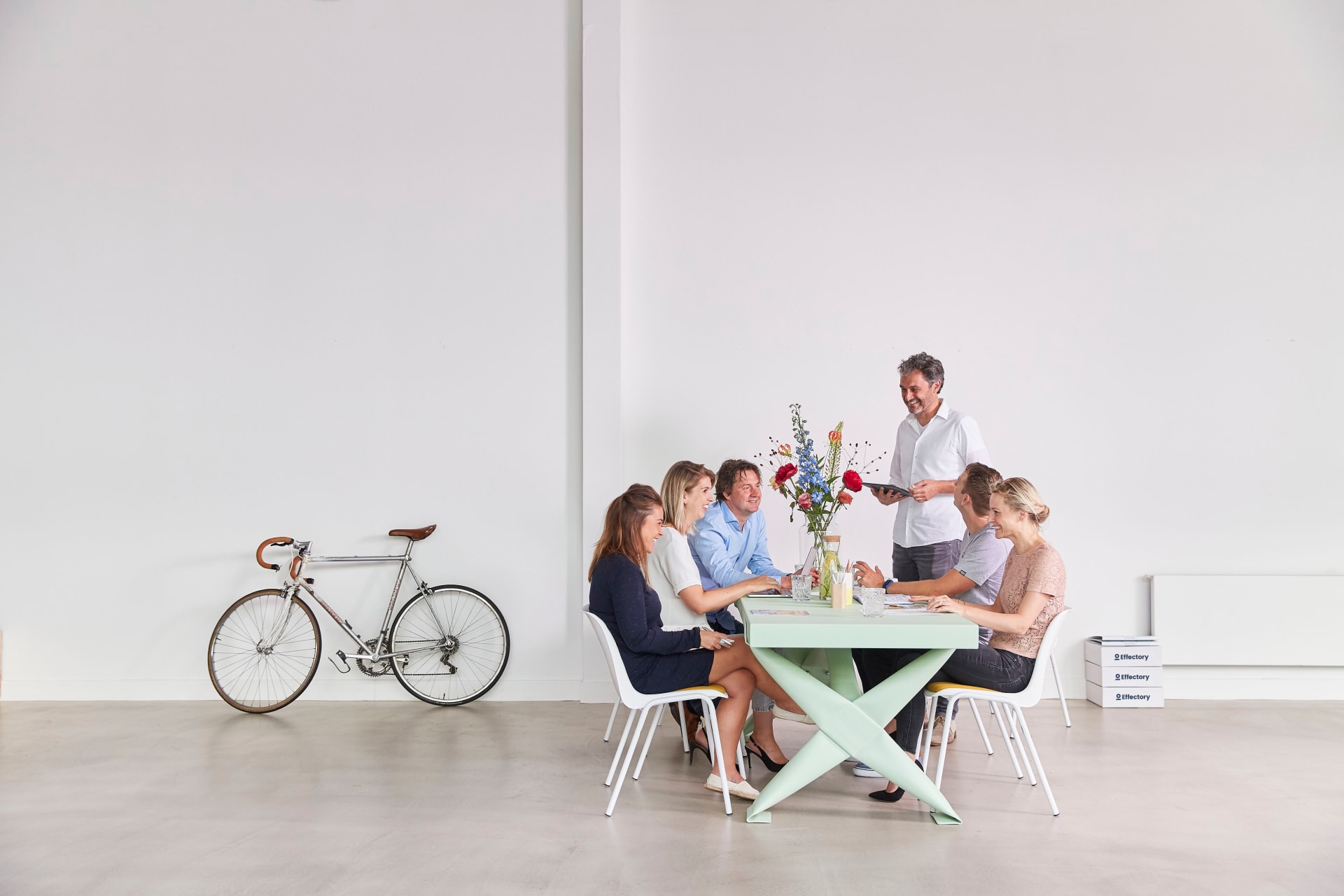 Head of People & Culture
Amsterdam

,

Noord-Holland

,

Netherlands

People & Support
THIS IS YOUR JOB
At Effectory we help organizations to perform better through employee feedback, fostering a people-centric approach to reaching their goals. We are growing internationally and expanding further within the DACH region. As Head of People & Culture, you will shape our organization's international people strategy and drive an inclusive and thriving workplace. You are responsible for overseeing all aspects of the employee experience, talent management and organizational development aligned to the different working cultures and growth ambition of Effectory.
You develop and implement a comprehensive people & culture strategy aligned with Effectory's mission, vision and values. You lead the People & Culture teams that consists of 2 People Business Partners, 1 People Operations Specialist, 3 Recruiters, 1 L&D Specialist and a People & Culture Assistant. You make sure that the sub teams are aligned to the People & Culture strategy and you will execute and further enhance the way of working. You will be the driving force behind innovations in the People & Culture team, ensuring all Effectory colleagues are even better supported to help our customers achieve their goals.  
The People & Culture team has an agile way of working with 2 week sprints and planning and review sessions. You are the owner of the quarterly roadmap, keep the overview and make sure that collaboration remains productive. You foster a culture of continuous learning and improvement, by providing resources and support for professional development of the team and the organization.
As Head of People & Culture (internally known as People & Culture Lead) you report directly to the Effectory Leadership Team. You will be part of the Acceleration Team within Effectory. The leads on this team work together on strategy and to achieve the goals for Effectory.
THIS IS YOU
You are an experienced Head of People & Culture with knowledge of rapid international growth and how to include this in a People & Culture strategy.
Next to that:
A university degree, (preferably in a related field) OR a proven track record of HR experience on a strategic level is a must.
Experience in a growing SaaS company is a must, preferably HR-tech.
Deep understanding of HR best practices, Dutch employment law (knowledge of German & international employment laws is an advantage) and industry trends.
Fluency in English is a must, fluency in Dutch and/or German will give you an advantage.

Experience in international organizations is a must, experience in the DACH market will give you an advantage.
Excellent leadership and people management skills with a keen ability to build relationships on all levels of the organization.
Demonstrated success in implementing People & Culture initiatives for growth while maintaining company culture and employee engagement.
You are a strategic thinker with the ability to align HR strategies with organizational objectives.
You have an analytical mindset and are great at problem solving.
With your stellar communication skills, you know how to deliver a message in a clear and engaging manner.
You like to work in a team while giving a high degree of autonomy.
You are available at least 32 hours per week.
THIS IS US
Effectory is Europe's leading employee feedback solution. With our platform, HR and management can collect employee feedback throughout the employee journey. This feedback is transformed into people analytics that informs strategies to boost productivity, engagement and retention. Built on 25 years' experience, our 200 specialists in Amsterdam and Munich support more than 1,200 organizations in 110 countries. Now more than ever, HR is an integral part of business strategy, which is why our feedback solution is tailor-made for strategic HR.
Effectory's mission
We are dedicated to improving the working world by giving employees a voice and making sure their feedback has an impact. Our experts work with HR teams and managers around the world, using employee feedback to overcome some of their biggest people-oriented challenges. From software engineers to HR specialists, every day Effectory's people work to improve the working world, and we are looking for talented individuals who also want to be part of this mission.
THIS IS WHAT WE OFFER
Competitive salary.
Annual bonus scheme.
25 holidays for FTEs, and flexible public holiday options.
A fun and interactive onboarding program to get to know our company and some of your new colleagues.
A learning budget to spend on your own personal development. We also provide professional and personal development opportunities, and also organize yearly summer and winter schools.
Flexible working: you will be able to work max 60% of your contract hours from home (or any other location in the Netherlands and/or Germany).
Budget to set up your home office.
Yearly Body & Mind budget to spend on anything that energizes (or relaxes) you.
Annual events, such as our Christmas party, summer party & the legendary Big Day.
Additional monthly compensation for working from home.
The option to work abroad for up to 4 months, and to take an unpaid sabbatical.
You get your birthday off work and can also take a day to volunteer for a cause of your choice.
Your place of employment will be the HQ in Amsterdam.
1. You want this job: submit your application via the link below
2. We are intrigued: we make a phone call to further introduce yourself and ask questions 
3. We all think it went well: we now meet live (or in a video call) to get to know each other a bit better 
4. We like each other even more: you meet potential team members and get a bit of a pleasant grilling 
5. We want to see you in action: you complete a case/assessment (if applicable)
6. The final hurdle: we agree on terms & conditions, we sign, and you start!